---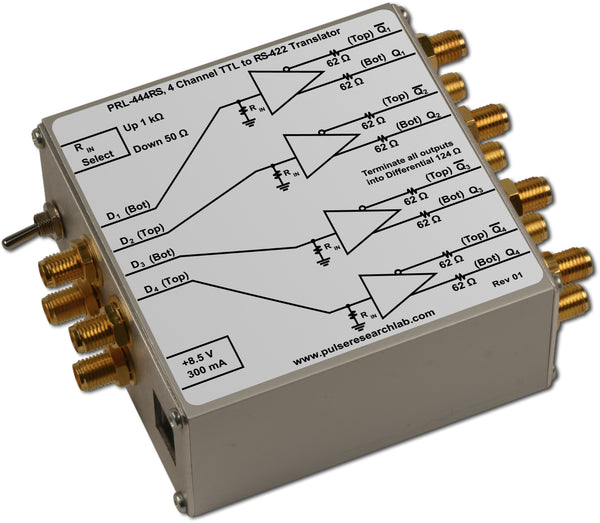 Applications:
TTL to RS422 Logic Level Translation
Conversion of Single-Ended TTL Signals to Differential Signals for Driving Long Lines
Mini Modular Instrument for interfacing with High Speed Data Communications Equipment
Features:
40 MHz Typical Maximum Clock Rate
4 Single Ended Inputs with Selectable 50 Ω or 1 kΩ Termination
4 RS422 Outputs for Driving 50 Ohm Cables into 124 Ω Floating Loads
SMA I/O Connectors
Single Supply, +7.5 VDC to +12 VDC, operation
Ready-to-Use 1.3 x 2.9 x 2.9-in. Module includes a ±8.5 V/1.8 A AC/DC Adapter
Description:
The PRL-444RS-SMA is a 4 Channel TTL to RS422 translator module. 
The input resistance of the PRL-444RS-SMA inputs can be selected to be either 50 Ω or 1 kΩ by a common toggle switch. The 1 kΩ inputs are desirable when interfacing with low power circuits.
The four pairs of complementary outputs are designed for driving floating 124 Ω loads, normally the configuration used in RS422 input circuits. The output swing is typically 1.40 V with a common mode voltage of 1.5 V.
All I/Os are DC coupled and have SMA connectors. A block diagram showing the equivalent input and output circuits of the PRL-444RS-SMA is shown in Fig. 1.
The PRL-444RS-SMA is housed in a 1.3 x 2.9 x 2.9-in. extruded aluminum enclosure and is supplied with a ±9.0 V/±1.7 A AC/DC Adapter. The PRL-444RS-SMA may also be ordered without the power supply as part number PRL-444RS-SMA-OEM. A maximum of four units can share the included PRL-760D-120/220 AC/DC adapter using additional units of cable #88000102-4. If mounting is desired, a pair of the #35001420 mounting brackets can accommodate any two PRL modules of the same length.
A complementary product, the PRL-425QRT-SMA, performs the opposite conversion of 4 RS422 signals to 4 TTL signals. The coaxial outputs can also be adapted to off-the-shelf Cat5/Cat5e/Cat6a network cabling, and then back again to coax, via one or more PRL-RJ45-SMA adapters. A future version will have RJ45 I/O connectors as an option.
Fig. 1: PRL-444RS-SMA Block Diagram
PRELIMINARY SPECIFICATIONS: (0° C ≤ TA ≤ 35° C)*
SYMBOL
PARAMETER
Min
Typ
Max
UNIT
Comment
RIN1
Input Resistance
49.5
50.0
50.5
Ω
 

R

IN2

Input Resistance

990
1000
1010
V
 
VIL
TTL input Low Level
-0.5
0.0
0.5
V
 
VIH
TTL input High Level
2.0
2.4
5.0
V
 
VDC
DC Input Voltage
7.5
8.5
12.0
V
 
VAC1
AC/DC Adapter Input Voltage
103
115
254

V
 
IDC1
DC Input Current @ 20 MHz
194
220

246

mA
 
IDC2
DC Input Current @ 40 MHz
290

mA
 
VOPP
Output Differential Voltage, peak-to-peak


1.40



V

 
VCMO
Output Common mode voltage1
1.48
1.50

1.52

V
 
tPLH
Propagation Delay to output ↑
TBD



ns
 
tPHL
Propagation Delay to output ↓
TBD



ns
 
tr/tf1
Rise/Fall Times (10%-90%)1
1.4
2.0

2.6

ns
fMAX
Max Clock Frequency
40

44

 
MHz
tSKEW
Skew between any 2 rising edges
TBD


ps
 

t

SKEW

Skew between any 2 rising/falling edges

250
ps
DTY
Duty Cycle @ 40 MHz
45/55
 
Size
1.3 x 2.9 x 2.9
in.
 
 
Weight
5
Oz
 
 
Shipping Weight
4
lbs