---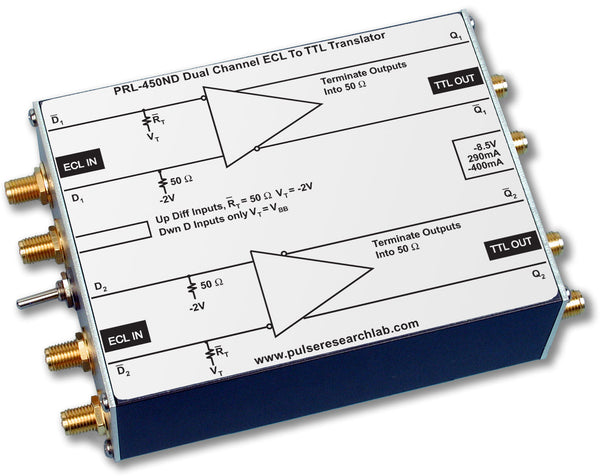 Applications:
Converting Single Ended or Differential NECL Signals to TTL Signals
High Speed Digital Communications Systems Testing
High Speed SONET Clock Level Translation
Features:
fmax > 300 MHz
1.1 ns Typical Output Rise & Fall Times
50 Ω/-2 V Input for NECL
Single Ended or Differential Inputs.
Complementary 50 Ω TTL Level Outputs
SMA I/O Connectors
Self-contained 1.3 x 2.9 x 3.9-in. unit including AC/DC Adapter
Description
The PRL-450ND logic translator converts NECL signals to TTL signals. It can receive either single ended or differential input signals, selected by a switch. The outputs of these translators have 50 Ω back terminations, and, therefore, they can drive 50 Ω terminated or unterminated lines. These high speed translators facilitate testing of high speed digital communications circuits, where conversion of NECL clock and data signals to TTL level signals is often required.
The PRL-450ND is designed to interface with NECL circuits operating with a -5.2 V or -4.5 V supply.
In the differential input mode, both inputs D and D of the PRL-450ND are terminated into 50 Ω/-2 V. In this mode, either one or both inputs can accept AC coupled signals as well.
In the single input mode, signals should be connected to the D inputs only. The D inputs are switched internally to VBB, nominally -1.3 V. The termination resistors, RT, for the D input channels are changed to 62 Ω.
Each unit is supplied with a ±8.5 V AC/DC Adapter and housed in an attractive 1.3 x 2.9 x 3.9-in. extruded aluminum enclosure.
Fig. 1A PRL-450ND Block Diagram
(0° C ≤ TA ≤ 35° C)*
Symbol
Parameter
PRL-450ND
Unit
Min
Typ
Max
Rin
Input Resistance
49.5
50.0
50.5
Ω
Rout
Output Resistance
49.5
50.0
50.5
Ω
VTT
D Input Termination Voltage (fixed)
-2.2
-2.0
-1.8
V
VT1

D

Input Termination Voltage
-2.2
-2.0
-1.8
V
VT2

D

Input Termination Voltage (variable)
-1.17
-1.30
-1.43
V
VOL
Output Low Level
-150
0
300
mV
VOH
Output High Level
2.0
2.2
 
V
IDC1
DC Input Current, +8.5 V
 
280
300
mA
IDC2
DC Input Current, -8.5 V
 
-395
-415
mA
VDC
DC Input Voltage
±7.5
±8.5
±12
V
VAC
AC/DC Adapter Input Voltage
103
115
127
V
tPLH
Propagation Delay to output ↑
 
2
 
ns
tPHL
Propagation Delay to output ↓
 
2
 
ns
tr/tf
Rise/Fall Times (10%-90%)
 
1.10
1.25
ns
tSKEW
Skew between any 2 outputs
 
200
500
ps
fmax
Max Clock Frequency
300
400
 
MHz
 
Size
1.3 x 2.9 x 3.9
in.
 
Weight, excluding AC adapter
7
Oz
 
Shipping weight, including AC adapter
4
lb.
* Unless otherwise specified, dynamic measurements are made with all outputs terminated into 50 Ω.