---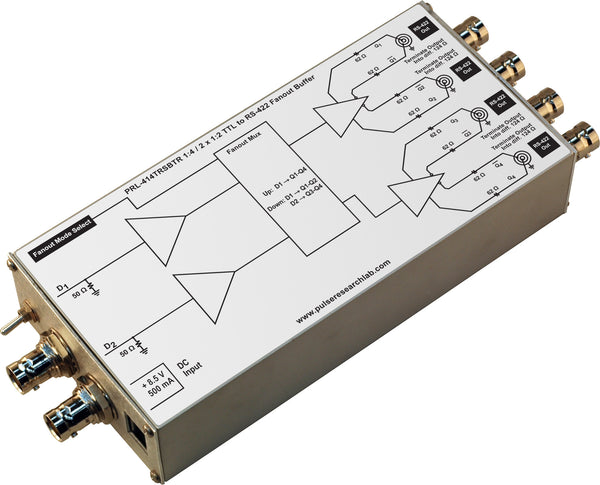 Applications:
TTL to RS-422 Translation/Conversion
RS-422 Fanout Buffer
Clock/Data Fanout Buffer
High Speed Digital Communications Systems Testing
Satellite Telemetry/Ground Station System Integration
Features:
fmax > 75 MHz
2.8 ns Typical Output Rise & Fall Times
1 ns Typical Channel to Channel Skew
2 BNC 50 Ohm TTL Inputs

4 Complementary 124 Ω RS-422 Outputs
Triax I/Os, Trompeter CBBJR79 or compatible
Switchable 1:4 Fanout or 2 x 1:2 Fanout Mode for simultaneous CLK/DATA distribution
Self-contained 1.3 x 2.9 x 6.0-in. unit
includes ±8.5 V/1.8 A AC/DC Adapter
Description
The PRL-414TRSBTR is a 1:4 fanout or 2 x 1:2 fanout RS-422 line driver with two 50 Ω BNC TTL inputs and four 124 Ω differential RS-422 outputs. The PRL-414RSTR high speed fanout line driver facilitates testing and integration of high speed digital communications circuits and distribution of satellite signals.
The PRL-414TRSBTR has two fanout modes, selectable by a toggle switch:
In the 1:4 mode (switch Up) D1 is connected to all four outputs Q1-Q4, and D2 is ignored. This mode is used for fanout of a single signal to four receivers.
In the 2 x 1:2 mode (switch Down) each of the two input signals is distributed to two outputs, with D1 connected to Q1-Q2, and D2 connected to Q3-Q4. This mode allows simultaneous distribution of Clock and Data signals to two receivers.
The four sets of complementary outputs are 62 Ω back-terminated and designed for driving floating 124 Ω loads, normally the configuration used in RS-422 input circuits. The output swing is typically 1.40 V with a common mode voltage of 1.55 V. .
Because every output is independently buffered, unused outputs do not require termination, and outputs can even be shorted without affecting other outputs. These applications would not be possible with a passive splitter or powered distribution amplifier.
Multiple units of PRL-414TRSBTR can be cascaded for wider fanout, such as 1:16 or higher. The PRL-414TRSBTR can be combined with other PRL products and integrated into a rack-mount system using PRL's modular rackmount kit, PRL-MRK3-1.
All I/Os are Triax, using Trompeter CBBJR79 or equivalent, and will mate with any Trompeter 70-series Triax Cable Plug with 3 lugs, or compatible connector.
The PRL-414TRSBTR is supplied with a ±8.5 V/1.4 A AC/DC adapter and housed in a 1.3 x 2.9 x 6.0-in. extruded aluminum enclosure. Available accessories include voltage distribution modules and shielded twisted pair cables with Triax termination:
88001140-36 Cable, Shielded Twisted Pair, 124 Ohm Triax to Triax, 36"
88001140-48 Cable, Shielded Twisted Pair, 124 Ohm Triax to Triax, 48"
A related model is available with RS-422/Triax inputs, the PRL-414RSTR.
(0° C ≤ TA ≤ 35° C)*
Symbol
Parameter
Min
Typ
Max
Unit
Comments
RIN
Input Resistance
50.0
Ω
ROUT
Differential Output Resistance
124
Ω
VIL
Input Low Voltage
0.0
0.8
V

V

IH

Input High Voltage

2.0
5.0
VOL
Output Low Level
0.85
V
VOH
Output High Level
2.25
V
VOPP
Voltage Output, peak-to-peak
1.4
V
VCMO
Output Common Mode Voltage1
1.55
V
IDC1
DC Input Current
300
mA
F = 25 MHz
IDC2
DC Input Current
400
mA
F = 50 MHz
IDC3
DC Input Current
500
550
mA
F = 75 MHz
VDC
DC Input Voltage
+7.5
+8.5
+12.0
V
VAC1
AC/DC Adapter Input Voltage, 120 V
103
115
127
V
VAC2
AC/DC Adapter Input Voltage, 220 V
206
220
254
V
tPLH
Propagation Delay to output ↑
20
ns
tPHL
Propagation Delay to output ↓
20
ns
tr/tf
Rise/Fall Times (10%-90%)2
2.8
3.5
ns
tSKEW1
Differential Skew between Q and Q ̅
200
350
ps
tSKEW2
Skew between any 2 outputs
1000
1500
ps
fmax
Max Clock Frequency3
75
80
MHz
Size
1.3 x 2.9 x 6.0
in.
Weight
9
Oz
w/o AC adapter
Shipping Weight
4
lb
w/AC adapter
Notes:
(1) VCMO = (VOH-VOL)/2
(2) Rise and Fall times are measured using the PRL-860DTR, Low-Loss Triax Pickoff Tee. The through signals are driving a PRL-425TTR-C001, modified with a floating 124 Ω input, and the pickoff signals are driving 50 Ω scope inputs.
(3) fmax is measured using the PRL-177A Clock Generator driving the inputs via a PRL-Triax-SMA adapter and a PRL-425TTR-C001 as the receiver. The outputs of the PRL-425TTR-C001 are measured.