---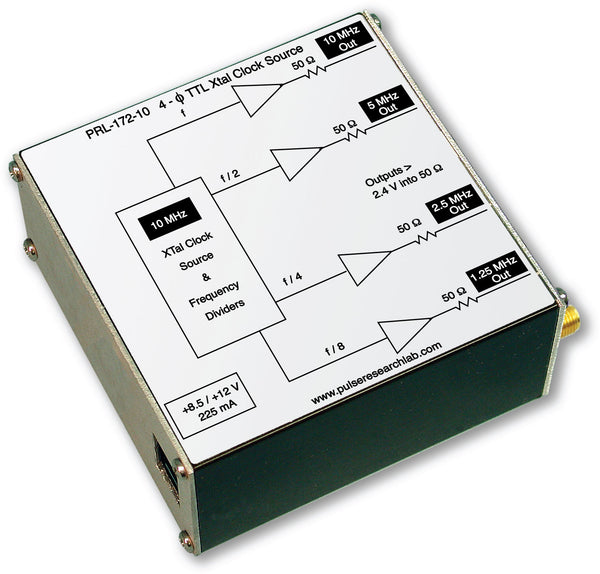 Applications:
Precision Clock Source for High Speed Digital systems
4-Φ Clock Generator
An Essential Lab Tool for Working with CMOS/TTL Circuits
Features:
50 ps typical edge jitter
750 ps typical skew between any two outputs
1, 2.5, 5, 10, 25, and 50 MHz crystal frequencies in stock
Custom crystal frequencies also available
50 Ω back matched outputs drive 50 Ω loads or unterminated long lines
DC coupled outputs
SMA output connectors
Ready-to-Use 1.3 x 2.9 x 2.9-in. module includes a ±8.5V AC/DC Adapter
Description
The PRL-172 is a ready-to-use TTL crystal clock source module with 50 Ω back terminated outputs, designed for driving long lines with or without 50 Ω terminations.
The PRL-172 converts the internal crystal clock frequency f into 4-Φ clock outputs of f, f/2, f/4, and f/8. 
The maximum frequency output of the PRL-172 is 50 MHz, model number PRL-172-50. Standard crystal frequencies provided are 1 MHz, 2.5 MHz, 5 MHz, 10 MHz, 25 MHz, and 50 MHz. Other crystal frequencies are also available by special order, with a 3-digit suffix indicating the requested frequency of the un-divided "f" output.
Each clock source module is housed in a 1.3 x 2.9 x 2.9-in. extruded aluminum enclosure and is supplied with a ±8.5V AC/DC Adapter.
If mounting is desired, a pair of 35001420 mounting brackets can accommodate two PRL modules of the same length. A number of PRL modules can also share a single ±8.5V AC/DC adapter using the PRL-730 voltage distribution module. Please see the Accessories Section for more detail.
PRL-172 Block Diagram
(0° C ≤ TA ≤ 35° C)
Symbol
Parameter
Min
Typ
Max
Unit
Comments
IDC
DC Input Current
260
300
mA
PRL-172-50
VDC
DC Input Voltage
7.5
8.5
12
V
VAC
AC/DC Adapter Input Voltage
103
115
127
V
tr/tf
Rise/Fall Times, (10%-90%)
2
3
ns
tSKEW
Skew between any two channels
750
1500
ps
fMAX
Max output frequency
50
MHz
Cable < 6'
Δf
Frequency Stability
100
ppm
Frequency Jitter
50
200
ps
Positive Duty Cycle
40
%
Measured @ 50%
Maximum cable length
100
ft
Output frequency ≤80 MHz
Size
1 x 2.9 x 2.9
in.
Weight, excl. AC adapter
5
Oz
Shipping weight, incl. AC adapter
4
lb.